MAINTENANCE TIMETABLE
DEADLINES

INSPECTIONS

TO REPLACE

DURING AND AFTER RUNNING-IN
by sight all the screws and the seal of the motor head after the removal of the air conveyer.
before each engine starting
remember the check list, see also : engine starting

after first 5 hours

all the screws (remember the 4 screws inside the air conveyer) >

after first 10 hours
remove the gear oil, check and clean the magnetic tap for metal parts
refill with 50 cc of 80-140 grade oil

every 25 hours

Guarding net

propeller: inspections

Inside cleaning of the pressurized gas pipe (only for float-type carburetor)

muffler elastic shock absorbers

deadlines

TO CHECK

TO REPLACE

every 50 hrs.

intake reeds (elasticity and sealing)

cleanliness around the clutch bell

cleaning and/or decarbonizing of the head and piston

piston ring sealing (compression test)

spark cap

spark plug

gear oil - 50 cc of 80 140 grade gear oil

piston ring, (following the result of compression test)

every 100 hrs.

crankshaft sealers

cranckshaft roller bearing (tollerance and noise)

clutch diameter and clearance

string, springs and plastic parts of the starter system

roughness and bore of the cylinder.
May be necessary a polishing and a new piston with the adequate size

piston roller-cage bearing

piston ring

propeller screws and nuts

clutch connectors and springs (2 pads version )
reductor oil (50 cc grade 80-140)

every 150/200 hrs.

piston

cranckshaft sealers

cooling fan

every one year
(even if the engine has not been used)

DEADLINES

INSPECTIONS

TO REPLACE
LOCKING TORQUES
bolts and knots

Metric

metric wrench (mm)

torque (N.m)

torque (lbf.in)

motor cylinder-head studs

M6

hexagon 10

9

do check for the symmetric fastening.

80

prop

M6

Allen 5 -
hexagon 10

9 / 11

go to prop setting

80 - 100

engine elastic mountings

M6

Allen 4

10

special directions : do not twist the mountings while screwing, do not use screws longer that the standard ones, the screw thread must not enter more than 6 mm

90

M8

hex 13 or Allen 6

15

special directions : do not twist the rubber mounting while screwing, do not use screws longer that the standard ones, the screw thread must not enter more than 8 mm .

140

5 mm fastening for diaphragm carburetor and plastic flange

M5 (Black anodized aluminum)

Allen 4 or hex 8

4

crankshaft nuts (clutch and ignition flyweel)

M 10 x 1,25

hexagon wrench 17

35
right screw thread

330

spark plug

please refer to manufacturer manual (remind the 2 mm washer, use 2,5 or 3 mm washer with very poor octan number )

muffler flange

M6

hexagon wrench 10

hand fasten and stops 2 mm before the compression of the spring (see the instruction at end of this table )

engine mountings

miscellaneous

4 mm

attention:
reduce by 50% with screws made ​​of aluminum or short threads on aluminum,
reduce by 60% with screw on plastic

2,5 - 3

miscellaneous

5 mm

4 - 5

6 mm diameter

9 - 11

8 mm diameter

20 - 24

for each bolt/nut you can use 1 or 2 drops of medium strength screw glue
instructions for mounting the muffler flange :
NOT

tighten the nuts

until the end

, do not

compress the springs

to the end !

otherwise it

will deform

permanently

losing

elasticity

use a spacer, let 0,5 mm space between each wire of the spring
spark plugs

NGK B9ES
NGK B9EG
or similar

for low temperatures
NGK B10ES
NGK B10EG
or similar
for high temperatures

starting string

Polyamide 3,5 mm, length 110 cm

net straining rope
coated Kevlar 1,3 mm
gas pipe
6mm 55cm, 4mm 20 cm
we strongly advise the use of original spare parts
gas filter

paper filter porosity of 20 micron

porex filter inside the tank

gas wire

1,2 mm

safety gas wire (metallic gas handle before 2004)

2 mm o 1,2 mm
original parts : shop.miniplane.it
Other features on the miniplane web page
Diaphragm carburetor maintenance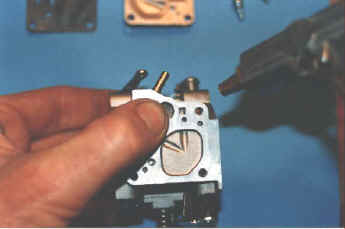 The diaphragm carburetor is provided with an internal filter that may get blank and cause carburetion problems that shows with power losses
To clean it it is compulsory to open the carburetor from the fuel entering side. In order to do it you must remove the aluminum lid held by four screws
You do clean it by a spout of air or by a fuel wet soft brush.
Do not remove the filter, clean it while leaving on its seat.
Do pay attention to cover with your finger about half of the filter housing, as shown in the picture, it may slip out.
For settings and modifications go to carburation