Most of the wings for free flight are suitable with the engine.
Considering that under the thrust of the engine the wing is a bit pulled up compared with free flight, the wings whit dive settings are suitable (trims), so with the engine thrust the angle of attack is closer to that of maxim efficiency (that is, less need of in-flight power) and the take off is easier.
The handling will be more confident, the glider seems more "reactive" following the pilot.
In horizontal flight the speed is almost the same that in gliding free flight. Excessive great surfaces will reduce in-flight speed and harder to inflate the wing, without any practical advantage.
In any case, use only wings easy to inflate, because with the engine the wing inflates following a horizontal line and it is not visible to the pilot.
In some countryes you can only use omologated gliders, please follow your instructor suggestions.
---
for further information : go to our web page
CONTROLS SETTING AND ADJUSTING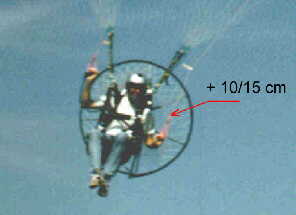 MINIPLANE PSF (high hang point)

Flying the paramotor PSF with a wing normally used for free flight, you must lengthen the controls of 4/6 in. because the hooking point of the wing is higher of about 8/10 in.

MINIPLANE ABM (medium flex suspension)

normally you don't need to change the brake lenght of a glider used in free flight
You get the right setting when you can hold your arms at ease without modifying the glider's edge.
It is very common to see pilots running uselessly during take off, the wing dragging behind with an excessive angle of incidence because of control set to short.
If necessary do replace the control cables with longer ones

Avoid putting extensions line on controls handles.

When inflating the main handle, heavier, may be drawn into the prop.
Setting the trims to the maximum speed (released), with most wings inflating and take get easier. in any case always refer to the wing direction of use.